The Viz Cinema theater in San Francisco's Japantown neighborhood is hosting the American premiere of the Mobile Suit Gundam UC anime series next month. The first 58-minute episode, featuring the English dub, will run at the theater from March 19 to March 25.
Bandai Visual Japan will distribute the first Japanese/English Blu-ray volume of Gundam UC from the Amazon website exclusively for two months starting on March 12.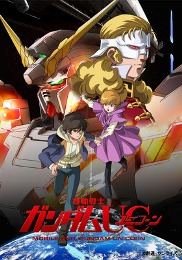 On March 5, Viz Cinema is also hosting the first night of "Tokyo Scope: The Wild and Crazy World of Japanese Cult Films," a new film/lecture series by Otaku USA Editor-in-Chief Patrick Macias. Sega of America is hosting the "Yakuza Night Fever" event, which will showcase yakuza (Japanese gangster) cinema and Sega's Yakuza 3 videogame for the PlayStation 3 game console. The theater will then launch its NEW PEOPLE Artist Series Festival, a March 6-9 series of documentaries that highlight Japanese contemporary artists.
On March 10, translators Frederik L. Schodt and Beth Cary will hold a lecture on Starting Point: 1979-1996, the autobiographical collection of essays by Oscar-winning director Hayao Miyazaki (Nausicaä of the Valley of the Wind, Spirited Away, Ponyo). The theater will then screen the live-action drama film Dear Doctor by Miwa Nishikawa (Sway and Wild Berries) on March 17.
The Gundam UC anime adapts Harutoshi Fukui's 10 novel volumes of the same name, which are set in the same Universal Century (UC) timeline as Yoshiyuki Tomino and Sunrise's first Mobile Suit Gundam science-fiction television anime series and its sequels. Bandai Visual's first Blu-ray Disc volume for the series will have a simultaneous international release with Japanese and English dubbing, as well as Japanese, English, French, Spanish, and Chinese subtitles. The first of six DVD volumes will ship on the same day with Japanese dubbing as well as Japanese and English subtitles.